Manchester United continued their pursuit of their first official win under Louis van Gaal against newly promoted side Burnley, who were also looking for their first win of the new campaign, at Turf Moor.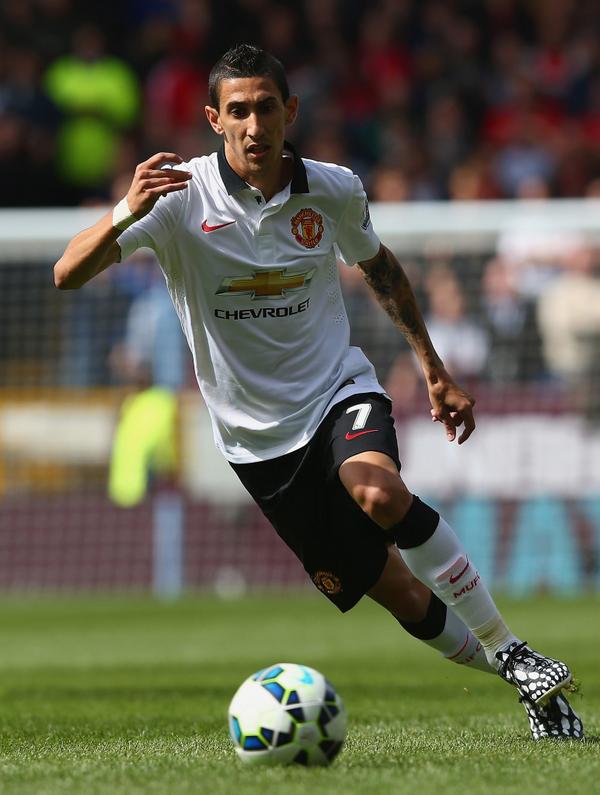 Angel di Maria was unable to inspire his side to a much needed victory.
Club and British record signing Angel di Maria started in the centre alongside club vice-captain Darren Fletcher for the Reds, but unfortunately they were still unable to break the deadlock and failed to score in the match, ending this encounter in a draw.
Here are 5 talking points from this match:
1. Where has all the creativity gone?
Having players like Wayne Rooney, Juan Mata, Robin van Persie and Angel di Maria in the same team would instantly make us think of creativity, flair and attacking prowess. However, this formidable foursome was unable to break open Burnley defense, a team against whom Chelsea managed to score 3 inside 20 minutes.
2. Why is Darren Fletcher still playing?
Darren Fletcher will always be regarded as a club legend for his unequaled desire to play for the shirt, however after having watched him start each of the 3 matches in the Premier League so far, I am always left wondering when we will stop playing him. He looks tired, bleak, ragged and always loses the ball. For these reasons alone, I was over the moon upon hearing that we've signed Ajax's defensive midfielder Daley Blind. Having either one of Blind or Carrick in midfield in place of Fletcher should regain the balance in our midfield.
3. We need our wing-backs back
Having watched Ashley Young and Antonio Valencia on the wings for the most part of this season, I can easily say that we are one of the most uncreative and predictable sides from the wings. While other big teams like Chelsea can show off their flamboyant wingers (like Eden Hazard), our best one was playing in centre-mid today. With the lack of creativity in the team, it wouldn't hurt if our wingers/wing-backs helped out in creating scarce chances for our strikers. That is why we need Rafael and Luke Shaw back, because Young and Valencia are one of the worst crossers and probably even dribblers in the league.
4. It's not all doom-and-gloom at the back
One of the main reasons we have been losing these opening games has been our leaky defense. Today, the defense started just as badly as the other games, conceding pointless free-kicks in dangerous positions and making defensive errors, both nearly leading to goals. After the jagged start, though, we finally got to see some composure from our back line. In my opinion, Phil Jones has been our best player in these 3 matches, and the rest of the centre-backs and wing-backs haven't done his performances justice with their lacklustre defending. Although we desperately need a leader at the back, I certainly hope that we will continue to keep things tight at the back, like today, despite that shaky start.
5. Will the 3-5-2 prevail?
Since the World Cup and pre-season, we have all been excited by van Gaal's unusual formation consisting of wing-backs. At first everyone thought that this new formation would be an instant hit at Old Trafford, but now everyone seems skeptical. The thing is, despite us naming most of our best attacking players, we are failing to create chances. Many people will blame the formation, but in fact it is the players who are to blame. The 3-5-2 system is really meant to be a counter-attacking formation, and we have already witnessed how well it works against the bigger opposition, where United can sit back and counter attack without being scrutinised. The players will, however, struggle against the lower sides minaly because United will need to take the game
to
them, and the formation is not really meant for the full out attacking style of play. In this formation, the defenders also have to be the ones to see most of the ball, and United's centre-backs are still getting used to not hoofing the ball across the field whenever they come under pressure. All in all, the players are still getting used to this formation, and like van Gaal has said, we can only judge after everyone has settled in to the new 'philosophy' that he has instilled at Old Trafford. Van Gaal says that it will probably take 3 months for the players to settle in. Yes, we are all getting impatient with these negative results, but I think that a man who has won so many trophies across Europe definitely has a better idea of what he's doing compared to those who are calling for his head 3 games into the season.